JG Research & Evaluation Projects
Projects Have Been Completed Over the Past Three Years
These are projects that we've undertaken as independent consultants. In addition to these projects, you can learn more about work we've undertaken in professional roles in the about us section.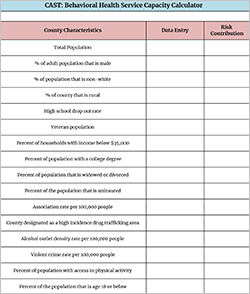 CAST Development
In light of the opioid crisis, SAMHSA leadership identified the need to improve the ability of communities to estimate the capacity of their substance abuse care system. Through a series of literature reviews, CAST was created, piloted tested, and published in Preventing Chronic Disease. CAST 2.0 development included improved methods for estimating the risk contribution from social determinants of behavioral health and a and continued refinement of the individual component estimates.
List of publications/documents: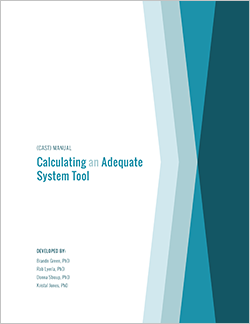 CAST Technical Assistance
During the development of CAST, it was pilot tested in Chicago, Northern Michigan, and presented for use in Flint, MI and Baltimore, MD. Over the past three years, CAST has been implemented by a range of individuals and localities, and we provided many types of Technical Assistance. This took the form of primary instruction about how to use the tool, review of data collection by community residents, and recommendations about how to interpret the results of the assessment.
List of publications/documents:
Chester County, PA report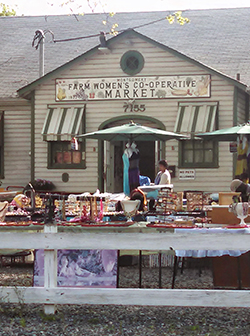 ATTRA Evaluation
This evaluation of ATTRA, one of NCAT's longest-running technical assistance programs, focused on creating continuity with evaluations conducted over the past 20 years while also updating methodologies to reflect 21st Century communications technology. The report was presented to the United States Department of Agriculture and the US Congress as evidence of positive impact and justification for future funding.
List of publications/documents:
Report available upon request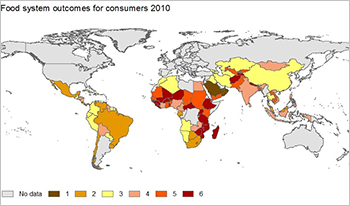 Food Systems Background Research
This background research report was requested by the Oxfam America research office as a starting point for the organization's diverse food systems programming and policy work. The purpose of the report was to operationalize and measure the relationships among different dimensions of the food system, and the diverse intended outcomes of food system change.
List of publications/documents:
Report available upon request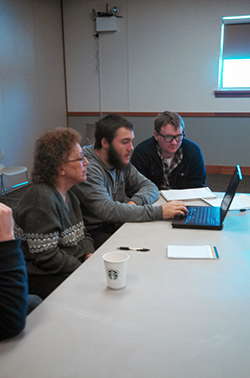 Central Susquehanna Affordable Care Act Project
The initial passage of the Affordable Care Act created a vacuum of expertise in many rural places across the country. Individuals who had never had the opportunity for affordable health insurance were faced with knowledge and technology barriers. In seeing this need, we worked with students at Bucknell University to provide enrollment assistance for two enrollment cycles in central Pennsylvania. The work allowed us to see first-hand the challenges being faced by rural residents who are trying to access appropriate medical care.
List of publications/documents: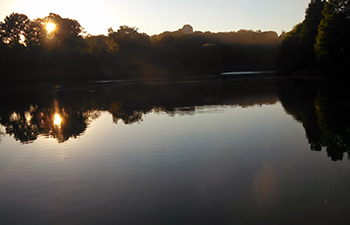 Envision the Susquehanna Research
One of the few organizations working to implement Large Landscape Conservation in the northeast of the United States, the Chesapeake Conservancy asked us to provide them with insight and research methods for understanding how people could be better integrated into the Susquehanna river corridor conservation project. We developed a mixed-methods approach to develop this understanding, including interviews with local conservation district officials and surveys of residents in the river corridor. Our findings were used by the Chesapeake Conservancy to create a community engagement plan and offered an innovative approach for integrating humans into large landscape conservation.
List of publications/documents: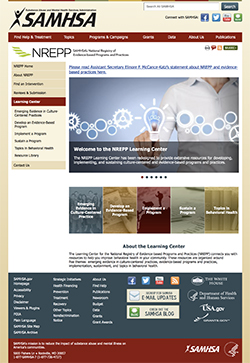 NREPP Evidence Reviewer
As the lead reviewers for the Resources for Dissemination and Implementation, Brandn directed a team of research assistants who were tasked with assessing and summarizing the research base for implementation processes associated with evidence-based programs in behavioral health.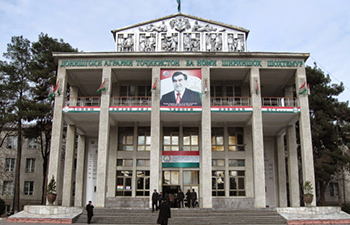 Tajikistan Agricultural Workforce Development Scoping Assessment
Kristal led a scoping assessment to Tajikistan in spring 2015 as part of the USAID-funded InnovATE project, focused on building capacity for agricultural education and training. The goal of the assessment was to provide systematic review of the history (through background research) and current state (through a three-week scoping trip and subsequent SWOT analysis) of agricultural education and training in the country.
List of publications/documents: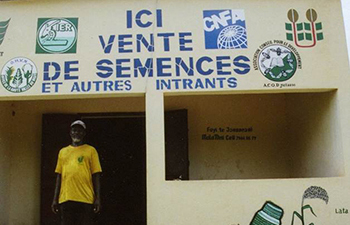 Social Dimensions of Seed System Development
Kristal conducted her graduate research with ICRISAT-West Africa, one of the CGIAR Consortium research centers focused on semi-arid environments. Through her time as a graduate fellow, she contributed to several aspects of the seed system development projects led by ICRISAT researchers and funded by the McKnight Foundation and the Bill & Melinda Gates Foundation. The goal of her work was to understand how introducing new seed varieties and new seed markets impacted (in positive and negative ways) smallholder farmers in the region, and she provided regional farmers unions with materials summarizing the impacts of their
List of publications/documents: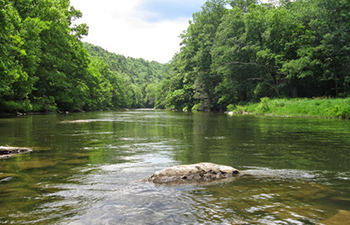 Indigenous Cultural Landscapes Background Research
Brandn and Kristal collaborated with colleagues at Bucknell University to produce a report for the National Park Service that provided the background for an indigenous cultural landscapes assessment of sections of the Captain John Smith Chesapeake National Historic Trail. The historical information, maps and interpretation included in the report provided content for signage and public educational information along sections of the lower Susquehanna River.
List of publications/documents:
Work with JG Research & Evaluation
Our goal is to use research to illuminate social processes. The first step in every project is a discussion where we ask questions to understand what you're trying to accomplish.